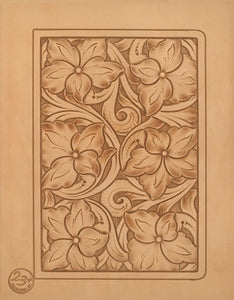 Beginner Tooling Pad Folio Class- In Person Class, October 13 & 14, 2023
Regular price $500.00 Sale
IN PERSON CLASS - LIMITED AVAILABILITY
Friday & Saturday October 13th & 14th 2023 9AM-4PM
Lunches Included
Materials Included
23+ SHOP & CLASSROOM
1400 SW COURT AVE
PENDLETON, OR
Instructor- Joe Meling 
Working with leather can be fun and creative with endless possibilities. Tooling (or carving) is a leatherworking skill that allows you to decorate and customize your leather projects. Although there are many different styles and directions someone can go with tooling, there are basic tools and fundamentals that are common among them all.

In this hands-on class you will begin to learn the fundamentals of tools including
Swivel knife
Bevels
Shaders
Backgrounders 
And other detail tools
Whether you have some tooling experience already or you have never touched a tool, this class is for you.
Fundamentals are important at any stage of the game. They are important to help you start on a firm foundation to grow your leathercraft skills. This class format allows me to teach to different skill levels with lots of one-on-one time.
Bring what tools you have but if you are just starting and do not have any, there will be
tools for you to use during class.
You are encouraged to take lots of notes and pictures as needed. There are LIMITED SPOTS AVAILABLE to provide maximum one on one time and allow for all questions to be answered in depth. 
If you are joining us from out of town, see the lodging discount we have under the Visit the store front page.